Tuna record shattered
405-pounder could break 33-year-old IGFA all-tackle mark
That fish -- which, quite honestly, was a fluke hookup that occurred at 10 p.m. while the long-range boat Royal Polaris was on anchor for the night in the now-closed Revillagigedo Island chain -- has stood for over 33 years as the benchmark for the San Diego fleet, one of the most sought-after saltwater records in the world.
If the numbers that rang up on the certified scale at Point Loma Sportfishing Dec. 2 are verified by the International Game Fish Association, Mike Livingston will be the new Grail holder: 405.2 pounds.
Livingston, a retired school administrator from Sunland, Calif., weighed in an 85 ½-inch yellowfin with a 61-inch girth six days after hooking and boating the beast on a 10-day run to Baja's Lower Banks aboard the 80-foot Vagabond. The giant fish, which now must endure the scrutiny of the IGFA and survive a 90-day waiting period before it's officially verified as the all-tackle record, is the first 400-plus-pound sport-caught yellowfin ever brought to the scales in the colorful history of the long-range fleet.
"I thought the fish was a big 390s, because I'd never seen a 400-pounder before," said Vagabond skipper/owner Mike Lackey. "I didn't know what a 400 looked like. I guess I know what one looks like now."
Livingston's fish, which was caught fly-lining a sardine on day four of the 10-day trip at a spot nicknamed "300 Bank" for the number of super-cow yellowfin caught there in recent years, had been through the rumor spin cycle for six days before it was officially weighed in front of a raucous crowd at the popular San Diego landing.
Lackey and the Vagabond crew had repeatedly and carefully measured and estimated the fish at just over 397 pounds while still at sea and sweated it out for six days while the fish lay in the boat's forward hold, meticulously wrapped in plastic to preserve its weight.
"(Lackey) taped it out, taped it out, and then taped it out again," said Livingston, whose previous biggest yellowfin was a 100-pounder. "He looked at me and said 'Mike, I've got it at 396 and some change. This is a
big
fish'."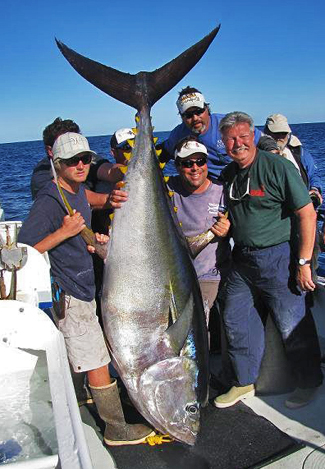 Courtesy VagabondSportfishing.com
The reality of the first-ever 400-pound yellowfin caused Lackey to err on the side of caution, as he quietly reported with a 13-word Tweet: "Slow start today except for Mike L.'s big boy measuring out at 390!"Within 24 hours, that Tweet had spun TMZ-style into chatter of two world-record-size tuna (a 390 and a 397) and had put the San Diego long-range industry into a slow boil as the Vagabond finished out its trip to "Cow Town" and made its way back to port.
Internet chat forums from Washington to Southern California blossomed with whispers of a possible record-breaker, but industry veterans took the news with a hearty grain of salt.
"I generally don't get too excited about these things until they're put on a scale that's not on the deck of a moving boat," said Bill Roecker, the author of "At The Rail" and longtime dock reporter for the San Diego Sportfishing Council. "I've seen too many of these 390-pounders turn into 360-pounders once they're on the scale. This one, though? It looked bigger (than 405)."
From hookup to record book
Livingston hooked the fish on a sardine that was pinned on an Owner 9/0 Mutu hook, and fought it for 2 hours, 40 minutes on a 5 ½-foot heavy stand-up rod with a Penn 30-wide two-speed reel spooled with 100-pound Soft Steel Ultra mainline and 100-pound Power Pro spectra backing.
The 100-minute fight was non-eventful as giant yellowfin go -- "We see 200-pounders that fight a helluva lot harder," Lackey said -- but that might make the difference between the IGFA certifying it as a record and losing the record to a technicality.
"The fish never left the stern," Livingston said. "It'd go from port to starboard, from starboard to port and back again, but it never left the front of the boat. These fish all have different personalities, but all I could think about this one when I first felt it was 'power'.
"When I threw the lever forward on the reel, it lifted me right onto my toes. I weigh 215 pounds, and that thing lifted me like I wasn't even there. It was an incredible fish."
The fish is now in the beginning stages of the IGFA certification process, which includes a 90-day waiting period because it was caught in international waters. The San Diego fleet has seen multiple massive yellowfin denied record status because of miniscule details that can occur fighting a 300-plus-pound fish on an 80- to -130-foot long-range platform.
"We always take a really hard look at big fish caught off of these long-range boats because there's a lot of room for things to go wrong and go against the rules," said IGFA world records coordinator Jack Vitek. "The line can get wrapped on the anchor or the fish can get foul-hooked on somebody else's line and require assistance to untangle it, which disqualifies it because somebody else touches the line. Whenever we see something come in off the long-range boats, we keep a really close eye on it."
The certification process requires for Livingston to submit the leader and roughly 50 feet of mainline, along with a notarized application with basic information (length, girth and weight of the fish, a description of the gear), photographs of him with the fish, the rod and reel, and the scale used to weigh the fish, and a handful of sworn testimonials from witnesses aboard the Vagabond.
"I think everything is going to qualify," Lackey said. "(Livingston) was in a harness when he caught it, nobody assisted him and he didn't have any line-tangle issues. Fortunately, the fish fought at the surface most of the time, and it was smooth from the time he hooked it until we got it on board."